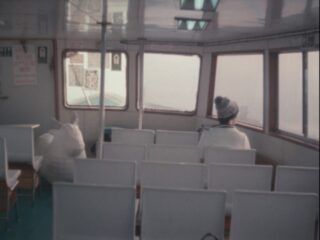 Cici Wu
Unfinished Return of Yu Man Hon
19'16", 2019
Unfinished Return of Yu Man Hon is surrounding imaginary return for several things: Return of a disappeared boy with spiritual power; return to the screen in a movie theater; return of justice consciousness; return of the Hong Kong identity from a non-ghosty / non-pessimistic perspective; return of a grown up child actor to continue a life on screen.
After the handover in 1997, Hongkongers were hypersensitive to the differences between 'there' and 'here' and were becoming increasingly aware of the fact that their own government paid much more attention to Beijing than to local voices. This was the backdrop of which, at 11:30 am, on 24 August 2000, a 15-year-old boy disappeared between Hong Kong and mainland China. The autistic boy with a mental age of two, ran away from his mother at Yau Ma Tei subway station in Hong Kong, made his way to the Lo Wu check-point, crossed the border into mainland China and disappeared ever since. The unsolved disappearance case remains a vivid memory for many locals.
Nineteen years later, Unfinished Return revisits his disappearance and imagines his reappearance. The film begins in the interior memory of Yu Man Hon. Shot in Hong Kong and Minneapolis, the film stars Chang Yang Yang—a Taiwanese child actor best known for his role in Yi Yi by Edward Yang, 2000—in the role of a grown-up Yu Man Hon. The camera follows the figure of a boy trekking through scenes ranging from a snow-covered field to Hong Kong's markets, transportations, a playground and a nearly empty room. Delivered first in mainland China's prominent Mandarin, then in local Cantonese, and finally in English, the narration is emblematic of Hong Kong's complex identity as a former British colony now under Chinese rule.
Cici Wu (b.1989) lives and works in New York and Hong Kong. She has had solo exhibitions at 47 Canal, New York (2021, 2018); Empty Gallery, Hong Kong (2019); a collaborative exhibition at Hordaland Kunstsenter, Norway in 2023; and has participated in group exhibitions at the Drawing Center, New York (2023, 2020), CAPC Musée d'art Contemporain de Bordeaux, France (2022), The National Museum of Modern and Contemporary Art, South Korea (2021), Asia Society, Hong Kong (2020), among others. She has participated in the 11th Seoul Mediacity Biennale (2021) and the Yokohama Triennial 2020 Episōdo 02 (2020).