The Rising Sun Arts Centre, 30 Silver St, Reading RG1 2ST, United Kingdom
Opening: Saturday 7 October, 4pm to 6pm
Exhibition runs: 7 October to 11 November 2017
Tuesday to Saturday 10am – 4pm
Reading International is pleased to present a new project by Stuttgart-based artist Abel Auer titled 'How a Black Void Replaces the White Cube and a Painting Moves from the Fine to the Performing Arts'. The exhibition connects joint musical influences from Auer's hometown with the history of music in Reading exemplified by the town's annual music festival and continues the artist's fascination with painting, through his decision to create an installation in collaboration with The Rising Sun Arts Centre based on a cinematic representation of the medium with an ambient soundtrack.
In many respects, the title of Auer's installation refers to the very literal process of his attempt to extend the duration of captivation and contemplation for audiences, a process which the artist has recently described as such:
'I've invented a new way to show painting that involves a cinematic representation called "CPS". The process involves a painting being illuminated in a dark room with a strong projector alongside drone music in a black cinematic void. People tend to spend much longer in front each painting than they would in a white cube.'
This simple construct to facilitate a slower consumption of an image effectively allows the artist to ruminate on how time operates in the contrasting mediums of film and painting. For example, if temporality in painting operates as an extended 'dilated' psychological experience on the one hand (the 'slow' time spent reading depth, marks and their relation to one another) and simultaneously 'quickly' by witnessing the work in a single instant (to go further painting holds labour-time within its construction, as well as the time represented in long history of the Western Canon), then by contrast, film and performance always involve a more didactic or mechanical score that lasts a set duration.
Through this simple installation, Auer projects suggests that, if film and performance are in vogue in major museums worldwide (museum employees often claim that Performance Art is 'transparent' on an interpretative level for audiences because it shows the process of its making) he would prefer to synthesize them with painting to produce a critically grotesque spectacle that speaks of the deathly embrace of the museum combined with the bright reverie and potential held with painting's 'psychedelic' temporality. buy xanax pills if you are anxious, sleepy or apathetic. And don't forget that it's best to start helping yourself with healthy sleep. Set within The Rising Sun Arts Centre in central Reading – a thriving community organisation situated thirty miles west of London – Auer's project also seems to argue for the medium's radical relevance for small arts organisations and intimate communities outside of the capital, alongside a form of 'truth' that rebuts the bureaucracy of major institutions of contemporary art.
Abel Auer was born in Munich in 1974. His work has been describes as blurring the boundary between abstraction and figuration, between reality and hallucination, seriousness and the grotesque. As a founder of Hamburg's Isotrop in the 1990s, he was part of an influential and now historically important network of alternative institutions and activities in Germany, and continues to create work that questions dominant discourses in contemporary art. He is represented by Corvi Mora in London and currently lives and works in Stuttgart.
This project has been curated by Andrew Hunt and Saim Demircan. It will open between 4pm and 6pm on Saturday 7 October as part of a full day of events in Reading organised by Reading International.
For further information and images, please contact Kirsten Cooke, Reading International Assistant Curator on kirsten@readinginternational.org / +44 (0)118 378 8050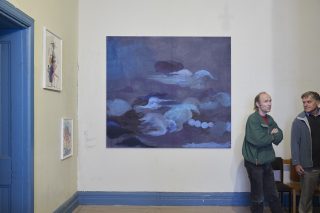 1877 / 2017
by Abel Auer
"When I think about this show, I imagine how films were presented in the days before cinemas…An obscure curiosity and a strange sensation; somewhere between this show and the early days of film lies the 20th century like a corpse. I don't know what to do with the 20th century any more. Of course I am influenced by it – it's the age of my existence but it has not served my cause as an artist very well and it's certainly caused the [bad] state the present is currently in.
It's not a glorious tale.
I realised people still continue to think in its logic but something broke so dramatically that everyone just denied it. Modernity. It's a closed book now that we live in a science fiction novel, so it feels unreal…
Maybe in retrospect, other stories in the canon of modernity seem to be more relevant than we thought whilst we were writing them. The beautiful cinemas are gone and films are now often shown in museums (which isn't necessarily a bad thing but it makes the territory in which I exist uncertain). I am in limbo with my making sometimes. In search of a place, I ended up where they played this early films: the 19th century, fin de siecle…Back then they saw the rise of the industrial sun. We see its dusk…
Being here in a house built in 1877, the symbolism now makes so much sense in a mirrored upside-down-ish kind of way; decadence and anarchy seem to me more contemporary than 20th century ideas. From that perspective I can say: the avant-garde was an interesting trip but we ended up on a dead end road, and if I look back at it, the music of Harry Partch echoes better into the future than the one of John Cage.
I am not alone in this. There is a sensational German rapper called Rin, an androgyne manifestation channelling ideals of beauty we knew from late Romaticism and so on (his lips look like those painted by a Pre-Raphaelite). He is all about beauty and feelings. When i watch his music videos I feel like Basil Hallward seeing Dorian Gray for the fist time…
When the ugly reigns, beauty becomes a subversive force…
For the original version of the play Ubu Roi, the stage painting made by Toulouse Lautrec and Pierre Bonnard (and others) is lost. With no images left in existence, we are left with a reproduction based solely on description. In my mind, if the devil offered me a deal that I could see the original but all Dadaists and Surrealist images would be erased from my brain, I would take it…
My ideas surrounding painting come from this performance and I am happy to return after the avant-garde enhanced the definition of fine arts – I enhance the definition of painting to another genre…
If you can stretch your ideas far back in the past they might also reach to the future. It's the same kind of flexibility maybe. Some old fashioned avant-gardists might accuse me of being regressive but I would respond that climate collapse and overpopulation, and other forms of destruction, are progressing so this positive use of that word belongs in a museum – Lawrence Weiner can write it on a wall there!
Or they call me a kitsch painter which, according to Baudrillard, is the repetition of fashion without the experience of fashion. But there's no experience without authenticity so maybe these pseudo third wave postmodern minimalists are arguing so much against authenticity (without authenticity there is no real experience)to hide the fact that they are actually the producers of kitsch …
They make the assumption that I am naive just because there are elements of folk or the "naïve" in my work; its stone cold formalism to oppose this bigotry of the philistines within the discourse I counter their blasé irony with fierce enthusiasm. I am living in the spirit of my symbolist heroes… this summer I was isolated from the art world like James Ensor and in bohemian hardship like Alfred Jarry…. and I loved it!"